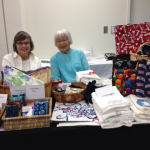 Who remembers the sukiyaki dinners? Those were some good times.
The Japanese Garden Committee held a festival on Saturday, June 14, in the new Normandale student center. While there was unfortunately no sukiyaki this time, there were delicious bentos, Japanese dance and taiko performances, origami demonstrations, and bazaar and informational booths.
Japan America Society of Minnesota (JASM), the Normandale Japanese language program, and Bloomington Sister City Organization were just a few of the many exciting organizations present.
Unfortunately, the weather was stormy, which put a damper on the fun. Nevertheless, Kogen Taiko packed the auditorium for their epic final performance!
Gloria Kumagai, Lisa Shakerin, Karen Lucas, and Jan Monson graciously volunteered their time to represent JACL with a bazaar booth. Our booth offered items such as Koinobori wind vanes, bracelets, and charms.
We also introduced Ramune soda this year! I first had Ramune while studying abroad in Japan many years ago. It is a children's beverage that tastes delicious and comes in a clear bottle with a glass marble lodged in the top. The plastic cap comes off and must be used as a plunger to push the marble into the bottle. It is a bit hard to describe, but very fun.
Many thanks to everyone who attended and volunteered for the event. I am looking forward to next year!